Jürgen Lingl - Sculptor
Jürgen Lingl was born in 1971 in Bad Tölz, Bavaria, Germany. From early childhood he was interested in art – drawing and painting everything he set eyes on: animals, people, buildings, landscapes.
At the age of 20, after graduating from Josef-Effner Grammar School, Dachau, Jürgen Lingl exhibited for the first time in a gallery in Dachau showing studies of nudes using various techniques. After his mandatory civil service in Schönbrunn, Jürgen Lingl began a wood sculptor apprenticeship with Master Hans-Joachim Seitfudem. His submission for his graduation won him the first prize in Munich and Bavaria and second place nation-wide. In 1996, Jürgen Lingl moved to Switzerland and worked as an independent artist. Jürgen Lingl then began creating works with a chain saw. His classical education permits him a creative freedom without any technical hindrances, from religious subjects like angels, holy figures and monuments to nudes and animals. Since 1999 Jürgen Lingl has been living and working in France.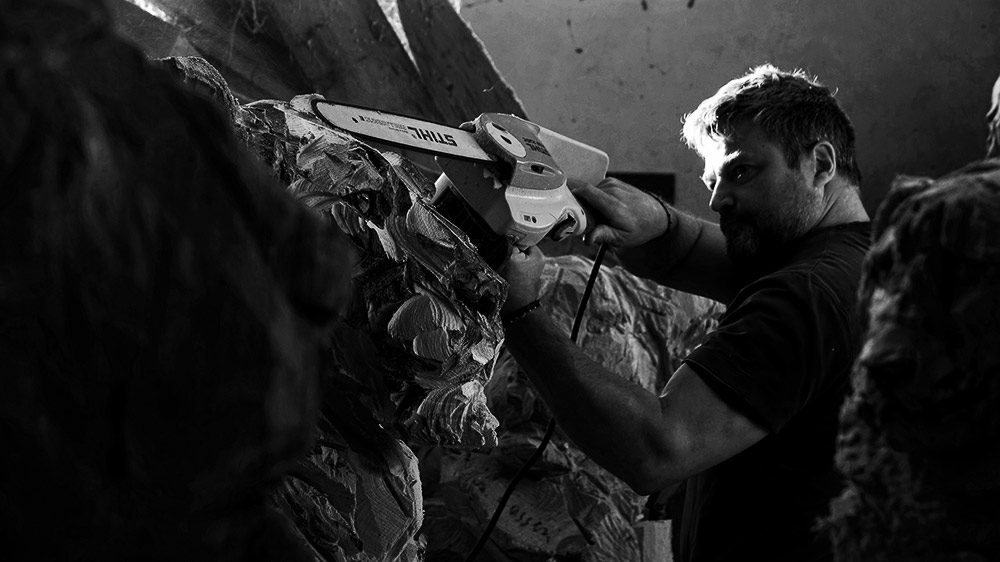 Jürgen's own personal style is powerfully apparent in the passion and animation which shines through every single piece of work. His sculptures are like drawings, drawn with the chain saw in a three dimensional space. Colour and pencil support the vibrant, impressionistic surfaces.
Jürgen Lingl's works are found both in private and in public collections across Europe, the US, Canada, Russia, Australia, Singapore and Hongkong.
Galleries
Leonhard's Gallery – Antwerp, Belgium
AbsoluteArt Gallery – Brugge, Belgium
Galerie Paul Janssen – Saint-Tropez & Grimaud, France
Galerie Sylvie Platini – Lyon & Veyrier, France
Galerie ArtCatto – Algarve, Portugal
Galerie Cadran Solaire – Beaune, France
Awards
Paul Belmondo
Paul-Louis Weiler
Edouard-Marcel Sandoz
Salon National des Artistes Animaliers
Ville de Bourges
Festival Animalier de Rambouillet
Ville de Munich
Contact